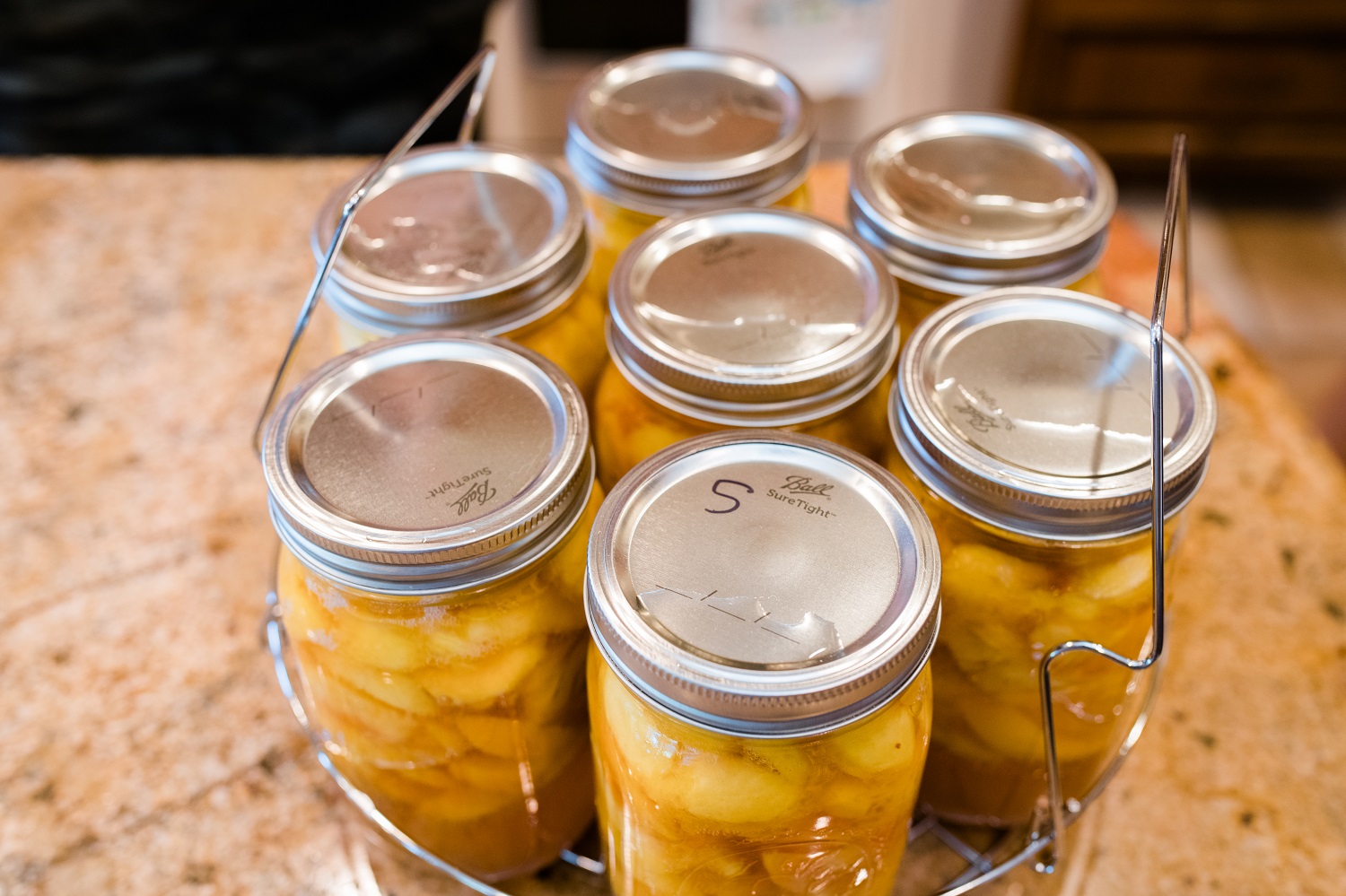 It's Peach Season - Time For Canning!
Preserve the summer harvest to enjoy all winter long
The end of summer means it's officially time to start canning! Have you ever wondered why they call it canning when a jar is used? Well canning is essentially a term for food preservation. Canning in tin cans began early in the 19th century. Thankfully the jar with a screw top and matching lid was developed by John Mason in 1858 which allowed for an easy and safe way to preserve food in glass. Thus, the mason jar, that we all still know and love today, was born. We are grateful because we know how much better food is coming out of glass! Today, glass jar canning is one of the most common food preservation methods.
Canning is a great way to preserve the summer harvest from our gardens, as well as, the summer produce from the markets that we love. It was only a year ago when my friend Lisa and I took a canning class at Arcana, one of my favorite restaurants in Boulder. Arcana prides itself on using just about every method of preservation in their food preparation. They taught us the hot water bath method which is the most common home-canning technique. It is the easiest and safest form, so as a beginner I follow it closely. This is the method I use for canning peaches.
It is still peach season, and here in Colorado we are blessed with the amazing, sweet and juicy Palisade peaches. I'm including some of my favorite peach recipes that you can use now with your fresh peaches from the market, or you can make in a few months with your preserved peaches from your pantry.
My sister, Barbara, is a canning connoisseur. She uses much of her homegrown produce from her farm in Tennessee. Barbara is providing a guest post on making canned tomato sauce! It's a good, easy and classic recipe. She uses a steam water bath method. If your garden is full of tomatoes right now you will be glad you have this recipe. You'll be especially happy when you go to pull a jar of one of these beauties off the shelf this winter!
For some people, canning is a necessity, for some it is a craft, and for others it is a hobby. I encourage you to try it, as it is quite satisfying! The process has a lot of moving parts, but once you get the hang of it, it's easy and fun. I like having a few friends over for canning fetes. It's so much fun!
Regardless of why or how you try canning, you'll find it is a very nice way to enjoy fresh tasting and nutritious recipes when there is snow on the ground.
xox,
Susan
Glass Jar Canned Peaches
Now is the perfect time to preserve a batch of delicious fresh peaches for enjoyment in the off-season.
Putting Up Canned Jar Tomato Sauce: Guest Post by Barbara Dinkins
My sister, Barbara, is a canning connoisseur! Enjoy the taste of fresh heirloom tomatoes all winter long with her easy-to-follow approach.
Sweet and Spicy Peach Salsa
Fresh or preserved canned peaches are the star in this simple and sweet salsa recipe.
Healthy Skillet Peach Cobbler
This dessert is gluten-free, dairy-free, grain-free, refined sugar-free and 100% delicious.
Italian Peach Bellini
I combine fresh, ripe peaches and cold prosecco to make this refreshing cocktail inspired by the Amalfi Coast.